I'm as much a fan of
Jacoby Ellsbury
as the next guy, although this post is liable to get me hate mail from at least one of the three people reading.
Jacoby is a fun player to watch, a good contact hitter, a stellar defender, often the fastest guy on the field. He made a terrific pro debut on the October stage, and he has a great personal story - the first player of Navajo descent to make the major leagues. If he does end up hitting for power like Theo says, then he'll be every bit of the star we all want him to be.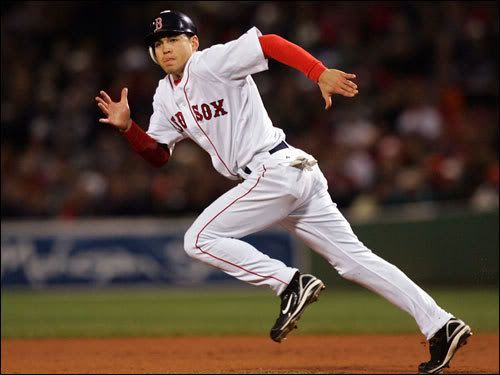 But but but - seriously now - can we just let the guy play and not try to make him into something he isn't?
Consider the mythmaking
efforts
of Wayne Thompson in
The Oregonian
, Ellsbury's home state paper (Ellsbury hails from Madras, OR):
With less than one-fifth of a year of major league experience -- he batted .353 in 33 games for the Red Sox last season -- Ellsbury starts this season with higher expectations than most veterans face.

Ellsbury's fans include 88-year-old Red Sox legend Johnny Pesky, another native Oregonian.

Boston's elder statesman, who has seen more Boston spring training camps than any other living person, compares Ellsbury's potential to that of the great Ted Williams and is not shy about saying so.

"I've taken a lot of kidding for saying that, but look here," Pesky said. "Ellsbury's got the whole package. He hits to all fields -- something Ted refused to do during his whole career. And his speed makes him slump-proof."

Ever since Ellsbury raced from second base to home on a wild pitch last July in his third major league game, the so-called Red Sox Nation has been enamored of his speed on the basepaths.

"When he scored all the way from second on a wild pitch, it was the greatest single play I've ever seen in all my years in baseball," Pesky said.
The single greatest play ever seen by Johnny Pesky, who presumably has seen at least seven different baseball plays at some point in his lifetime. I don't even know what to say here. Paging Red Sox fans - can someone tell me if Mr. Pesky checked out early from the padded hotel room he's been staying in?
Compared to Pesky, Peter Gammons' comments are practically a cold shower:
"I think he will develop more power over time, perhaps in the 20-home run range," Gammons said. "He'll hit for average and be a Gold Glove-caliber fielder. If I had to predict, I'd say his future career will fall somewhere between a Grady Sizemore and a Steve Finley. He's a great athlete, extremely focused, with an uncommon work ethic."
Phooey on you, Gammons, you nay-sayer. Grady Sizemore, is that all you got?
Let's hear from someone who actually has some faith in the young man:
Lou Gorman, a former Red Sox general manager who also was general manager with Seattle, Kansas City and the New York Mets, said Ellsbury's batting style reminds him of the Mariners' Ichiro Suzuki, noting: "He'll get his share of leg hits and he's already learned good plate discipline.

"I think he is about as fast as Willie Wilson was for us at Kansas City. Wilson was the fastest player out of the box I've ever seen. I'd expect Ellsbury to steal 60 to 70 bases a year if the Red Sox give him the green light on the bases."
So, let me tabulate my scouting report. Jacoby Ellsbury is Ted Williams crossed with Grady Sizemore and Ichiro, throw in a dash of Steve Finley and the speed of Willie Wilson. Do I have that right?
Let's see, doing some math, carry the one, by my count Ellsbury should hit .400 with 20+ HR and 60-70 stolen bases. That 's not too much to expect of a rookie. After all, he's young, he's got lots of energy.
Is there anybody willing to step away from the hype machine? Apparently, there's at least one guy:
"It's all new to me, being in a fishbowl like this," [Ellsbury] said. "I used to laugh about it when there was a lot of stuff said and written about other people. I don't think of myself as the next big anything, or the second coming of anybody, other than me. The comparisons are for others to make."

Godspeed, young man.